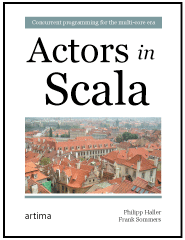 First Edition
Published
Jauary 31, 2012
187 pages (eBook)
XXV, 169 pages (Paper Book)
Actors in Scala
Concurrent programming for the multi-core era
by Philipp Haller and Frank Sommers
Actors in Scala is the authoritative guide to programming with the actors framework of Scala's standard library, co-written by the creator and lead maintainer, Philipp Haller. The book provides a comprehensive introduction to the actor model of concurrency and shows how Scala's actors enable you to build efficient, scalable, and robust concurrent software for the JVM.
You can purchase just the PDF eBook for $23.00, just the paper book for $36.95, or get them both by purchasing the PDF/Paper combo at a discount for $46.95. If you purchase the PDF eBook or combo, you will be entitled to receive periodic updates as errata are fixed, for no additional charge. Also, by purchasing the PDF eBook you can for no additional charge download Mobi and epub eBook version of the book that looks great on your Kindle, iPad, or other device.
In Stock.
Paper book usually ships within 24 hours. PDF eBook ready for immediate download.