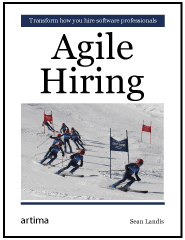 First Edition
Published
March 25, 2011
228 pages (eBook)
XXIII,213 pages (Paper Book)
Agile Hiring
Transform how you hire software professionals
by Sean Landis
This book provides principles and techniques that will help you to hire the best software professionals.
You can purchase just the PDF eBook for $20.00, just the paper book for $29.95, or get them both by purchasing the PDF/Paper combo at a discount for $39.95. If you purchase the PDF eBook or combo, you will be entitled to receive periodic updates as errata are fixed, for no additional charge.
In Stock.
Paper book usually ships within 24 hours. PDF eBook ready for immediate download.