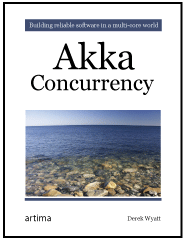 Published
May 24, 2013
529 pages (eBook)
XXVIII, 521 pages (Paper book)
Akka Concurrency
Building reliable software in a multi-core world
by Derek Wyatt
Writing truly concurrent software on the Java Virtual Machine just got a whole lot easier. The Akka Toolkit takes the sting out of coding for multiple cores, multiple processors, and even multiple machines.
Akka Concurrency will show you what it means to design and write software in the paradigm of Akka. You'll learn how to think about your software in new and exciting ways that will allow you to express your designs naturally, allowing you to focus on the business of your software more than on the concurrency of it. This book picks up where the Akka documentation leaves off, exploring the how and the why of Akka, in a way that will empower you to grow your applications to new levels of scalability, responsiveness, and performance.
This book is now complete, in stock, and ready to ship!
You can purchase just the PDF eBook for $26.95, just the paper book for $45.95, or get them both by purchasing the PDF/Paper combo at a discount for $59.90. If you purchase the PDF eBook or combo, you will be entitled to receive periodic updates as errata are fixed, for no additional charge. Also, by purchasing the PDF eBook you can for no additional charge download Mobi or ePub versions of the eBook that look great on your Kindle, Nook, iPad, or other reading device.
In Stock.
Paper book usually ships within 24 hours. PDF eBook ready for immediate download.