Jini Seminar by Bill Venners
Introduction to Jini
Lecture Handout
Agenda
Discuss the trouble with traditional distributed systems
Reveal the main aims of Jini
Give an overview of Jini's architecture and approach
Show how Jini's use of mobile object provides flexibility
---
Consider the URL
http://www.artima.com:80/jini/index.html
---
Static Relationships
Have to know the protocol
Have to know the host IP address or DNS name
Have to know the port number
Need to know the resource name
System administrators must configure clients and servers
Not spontaneous enough, so doesn't scale
---
Dynamic Network
Servers crash, are introduced, are removed, are moved
Resources are introduced, removed, and moved
Want to change old protocols, invent new protocols
Jini is a way to do distributed computing that helps you manage the dynamic nature of networks
---
Why Jini?
Enables a spontaneous "plug, use, and unplug" network
No system adminstrator required
Everything on the network (hardware or software) is a "service"
Each service represented by a mobile object
Interface says "what"; Implementation says "how"
---
What is Jini?
A programming model

leasing
distributed events
transactions

A runtime infrastructure

lookup service (interface)
discovery protocol
transaction manager (interface)

Enables building/deploying of distributed systems
---
Jini Example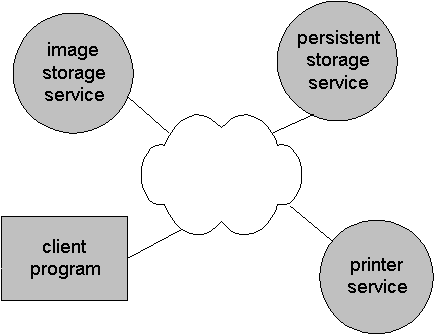 ---
Federation
Jini systems organized as federations of services
No central controlling authority
Read: No single pillar propping everything else up
Federation yields robustness
Lookup service is like a singles bar
---
Registering a Service
Service provider discovers a lookup service
Lookup service sends its ServiceRegistrar proxy to the service provider
Via the ServiceRegistrar, ...
The service provider sends its own proxy to the lookup service
(Interchangeable: proxy, proxy object, service object, service proxy)
---
Finding a Service
Client discovers a lookup service
Lookup service sends its ServiceRegistrar proxy to the client
Via the ServiceRegistrar, ...
The client sends lookup query (usually by type) to the lookup service
The lookup service replies with requested service proxy
---
Using a Service
Via the service proxy, ...
Client interacts with the service
Client invokes methods of the service proxy's interface
Proxy talks across the network to any remote aspects of the service
---
Protocol Independence
Any network communication is between:

service proxy (injected into client)
any remote portions of the service

Both ends of network communication controlled by service provider
Thus, wire protocol is a private matter: standard, custom, changing...
RMI semantics (RemoteException) in interface
---
Hardware and Software
Services can be hardware (devices) or software (servers)
Everything is a service, represented by an object, used via an interface
Dynamic lookup enables new services to be disovered, old services to be updated
Services are network-available components, searched for by interface type
---
Enabling Change
Traditional, protocol-based distributed systems difficult to change
In Jini, protocols can evolve
In Jini, base interfaces can be extended
Old clients can use base interfaces
New clients can use new interfaces via lookup or instanceof and downcasting
Evolution is easy
---
Where's Java?
Java class files fly across then network
JVM interprets them at the client
Legacy (non-Java) code can serve up a proxy
Legacy code can be wrapped via JNI calls
---
Mobile Objects
"We built the JVM to let objects move around."
Objects shipped across the network via serialization
Dynamic code downloading enables real object transfer
Polymorphism yields flexibility
---
Conclusion
Jini is a distributed computing architecture that leverages network mobile objects
Goal: Help you manage the dynamic networks
Goal: Scale up to lots of clients and services
Goal: Enable spontaneous "plug, use, unplug"
Goal: Raise the level of abstraction for distributed systems programming
---
Exercises
Problem 1.
Create a batch file that starts up the servers that you'll need to have running for the rest of the problems.
The first thing your batch file should do is set some environment variables:

set JINI_HOME=d:\jini1_0_1
set JDK_HOME=d:\jdk1.3
set YOUR_HOST=123.456.123.456
set YOUR_PORT=8080

Just set the first two variables to the appropriate directories on your local disk. Set the
YOUR_HOST
variable to your actual IP address,
not
127.0.0.1 and
not
any DNS-style host name. The best way to ensure that other nodes on the network can find your web server is to point to it with an IP address in quad form.
The next thing you'll need to do is start a web server that will serve up files from the lookup service (reggie), transaction manager (mahalo), and javaspace (outrigger). Something like this should work. (The second and third lines should be one line.)

echo Launching web server for reggie, mahalo, and outrigger...
start %JDK_HOME%\bin\java -jar %JINI_HOME%\lib\tools.jar -port
    %YOUR_PORT% -dir %JINI_HOME%\lib -verbose

At this point, you may wish to test your batch script. Once you get the web server to indeed pop up in a DOS box, attempt to request the URL
http://127.0.0.1:8080/reggie-dl.jar
via a web browser.
Problem 2.
The reggie server runs in the RMI Activation Daemon (RMID), so the next thing your batch script should do is start RMID. Before starting RMID, you should clear out its logs. (RMID keeps state between crashes and shutdowns, so that once registered with RMID, remote objects are always available until explicitly removed. RMID's places its logs in a subdirectory (called log) of the directory in which you start RMID. The following command should delete the logs:

del log\Logfile.*
del log\Snapshot.*
del log\Version_Number
rmdir log

Once the logs are deleted, you can start RMID:

start %JDK_HOME%\bin\rmid -J-Djava.security.policy=policy.all -J-Djava.rmi.server.logCalls=true

Starting in 1.3, RMID requires a policy file. You can just use the
policy.all
file for these exercises. Try running your batch file again to make sure RMID gets started OK. To stop RMID once you get it going, type the following into any DOS box:

rmid -stop

Problem 3.
Modify your batch script once again, so that after RMID gets going, your batch script fires up the Jini lookup service. Before starting the lookup service, you'll want to remove its log files:

del reggie_log\Logfile.*
del reggie_log\Snapshot.*
del reggie_log\Version_Number
rmdir reggie_log

Then start reggie (all one line):

%JDK_HOME%\bin\java -Djava.security.policy=%JINI_HOME%/example/lookup/policy.all
    -jar %JINI_HOME%/lib/reggie.jar http://%YOUR_HOST%:%YOUR_PORT%/reggie-dl.jar
    %JINI_HOME%/example/lookup/policy.all reggie_log public

Test your script once again, to make sure the lookup service registers itself successfully with RMID. This will take a while, perhaps a minute or so. If the lookup service throws back some exceptions at you, you may need to insert some kind of pause between starting RMID and starting reggie. RMID takes a few seconds to sort itself out and mentally prepare to accept activatable objects like those offered by reggie.
To generate a prompt in DOS that will wait for you to hit return, you could use this:

mkdir delmedir
del delmedir\*.*
rmdir delmedir

Problem 4.
Modify your batch script yet again, this time to start a transaction manager. Like the lookup service, the transaction manager will operate as an activatable object in RMID. Before starting the transaction manager, you'll want to remove its log files:

del mahalo_log\JoinAdminLog\*.*
del mahalo_log\Version
rmdir mahalo_log\JoinAdminLog
rmdir mahalo_log

Then start mahalo (all one line):

%JDK_HOME%\bin\java -Dcom.sun.jini.mahalo.managerName=TransactionManager
    -Djava.security.policy=%JINI_HOME%/example/lookup/policy.all
    -jar %JINI_HOME%/lib/mahalo.jar http://%YOUR_HOST%:%YOUR_PORT%/mahalo-dl.jar
    %JINI_HOME%/example/lookup/policy.all SOME_ABSOLUTE_PATH\mahalo_log public

Make sure you replace "SOME_ABSOLUTE_PATH" with the absolute path to your working directory, the directory in which you run your batch script. Test your script once again, to make sure the transaction manager gets going successfully.
Problem 5.
Unfortunately, you've almost come to the end of all this fun and exciting batch file writing, so make sure you savor the joy of this last step. The only server left to start is the JavaSpace. Because we'll be using the non-persistent version of outrigger, you don't even have to clean up any log files. Just start the space:

%JDK_HOME%\bin\java -Dcom.sun.jini.outrigger.spaceName=YOUR_NAME_HERE
    -Djava.security.policy=%JINI_HOME%/example/lookup/policy.all
    -Djava.rmi.server.codebase=http://%YOUR_HOST%:%YOUR_PORT%/outrigger-dl.jar
    -jar %JINI_HOME%/lib/transient-outrigger.jar public

Please substitute your name in place of "YOUR_NAME_HERE" when starting the space. (Any name will actually work, so long as it is unique in the class room, so feel free to be creative.)
Test your batch script one last time, to make sure JavaSpaces gets going correctly. When the script is done, the DOS box in which you actually run the script will end up being the JavaSpace server.
Problem 6.
In the RuntimeInfra/ex1 directory, run lsd.bat, which will do a "directory" of the lookup service running on port 4160 of your computer. Make sure you see at least three services running in your lookup service, the lookup service itself (reggie always registers its own service with itself), the transaction manager, and the JavaSpace. You may see lots more, because everyone else in the room testing their batch files will be starting these services as well, and they will attempt to register themselves in your lookup service too.