The Journal of Spontaneous Networking
It Just Works: UPnP in the Digital Home
by Michael Jeronimo
October 5, 2004
Page 1 of 3
>>
Summary
UPnP network technology allows personal computer and consumer electronics devices to advertise and offer their services to network clients. Many companies and standards organizations view UPnP as the technological foundation of the digital home, enabling innovative usage models, higher levels of automation, and easier integration of devices from different manufacturers. In this article, Michael Jeronimo provides an introduction to UPnP technology, reviews the protocols that comprise UPnP, and explains the various elements of a UPnP device.
Industry pundits have been predicting the direction personal computers (PC) and consumer electronics products (CE) would eventually take. The basic technologies had all been present for some time: Widely accepted digital media formats for the delivery of audio-visual content, wired and wireless networks in the home as a backplane for device connectivity, and broadband Internet connections for high-speed access to Internet-based content. Nevertheless, the anticipated convergence of personal computers and consumer electronics remained out of reach until recently. The missing ingredient: a widely-adopted, standards-based network technology to allow devices from the personal computer and consumer electronics worlds to offer their functionalities and advertise their services to other network devices.
The Arrival of Digital Home Convergence
Since its introduction in 1999, UPnP technology has been steadily gaining industry support as the preferred device discovery and control protocol for IP networks in the home and small office. Today, the UPnP Forum has over 700 member companies from industries as diverse as personal computers, consumer electronics, home automation and control, home security, printing, photography, and computer networking. UPnP Forum working groups have developed standards for several kinds of network devices, such as printers, cameras, scanners, and Internet gateways. Each of those standards provides an abstraction of what services each kind of device provides to the network.
As a result of those efforts, standards-based products in the market are beginning to break down barriers between PC and CE devices and are providing new usage models to consumers. For example, digital media adapters (DMAs) are devices that reside in the entertainment center with outputs to the television and audio equipment and a wired or wireless connection to the home network. DMAs allow the user to view content from the PC, typically located in another room such as the den or home office, on the TV and stereo in the entertainment center. Because of the UPnP A/V standards, all of the content in the home will soon be aggregated into a single, virtual content store available to any networked UPnP A/V device.
Work in the UPnP Forum continues, with more devices and innovative usage models on the horizon. Consider digital photography. A user will soon be able to take photographs with a digital camera, bring that camera home and set it on the counter. The camera will wirelessly upload the pictures to a central storage location in the home, making those pictures available for viewing on any device capable of image display. To peruse those photos with friends, a user might sit on a couch and view the pictures on a TV. To edit those pictures, a user could access them from the PC. Personal media center devices will allow people to take their pictures with them to show their friends. There will be fewer hurdles of directly transporting pictures from one device to another - content will be automatically transferred and accessed, and all devices will have access to the same content at any time.
A Digital Home Platform
In addition to entertainment-oriented usages of UPnP technology, companies are developing bridging technology to bring devices located on other networks in the home into the realm of UPnP devices. An example: the powerline network. Garage door openers, lights, and switches will soon be available for discovery and control. UPnP technology is a unifying force: it defines a framework for a common, network-based platform for device collaboration.
UPnP implicitly enables the notion of a digital home platform: an abstraction that brings coherence to previously separate islands of connectivity in the home. The digital home platform will span wired and wireless networks, entertainment devices, telephone equipment, home control, and so on, linking the various networks in the home into a single logical network of programmable devices, as shown in Figure 1.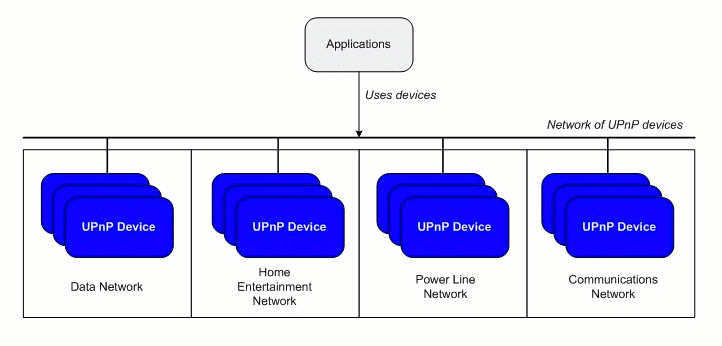 Figure 1 - UPnP: a unifying network technology
Control points on the network, such as the PC in the den, or the television and remote control in the entertainment area, will have programmatic access to all of the devices on the network and will be able to run programs that aggregate the devices into innovative applications.
New Usage Models
Much of the complexity of installing, configuring and using networked devices in the home can be hidden from users by UPnP technology. For example, a person not familiar with networking might bring home a wireless Internet gateway device and, instead of having to learn about IP addresses, packet filtering, ports, and so on, can just plug that device in the power, Ethernet, and phone cables, turn the device on, and that device will just work.
In addition, UPnP technology provides an important usability benefit: it helps transform the home computing environment from a simple PC-in-the-den model to a user- or activity-centered model. New usage models are already being developed that support activities in the home in their natural settings. For example, as we've seen with entertainment, content brought in to the PC from the Internet can be enjoyed in the home environment most suitable for music and video - the entertainment center.
In the future, user interface devices will be tailored more closely to user activities, moving beyond the simple keyboard and mouse interface. For example, in the kitchen there might be a durable and easy-to-clean touch screen display that can handle user interaction with a program running on a remote PC. The new UPnP Remote UI is designed to facilitate such a transition. Remote UI enables the separation of application logic from user interface. This will be a boon to new usage models that allow the user to interact with an application from many user interface points throughout the home.
Page 1 of 3
>>